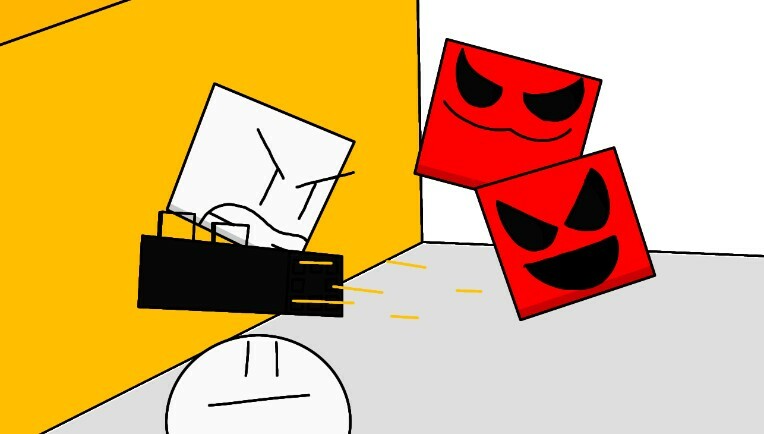 I would post the game here on Newgrounds but I couldn't figure it out :(
Basic controls:
Level 1:
Arrow Keys To Move.
Space To Shoot
Level 2/Boss:
Left and Right Arrows to Move
S to Shoot
Space to Jump
Goals:
Level 1:
Don't let the Bads reach the yellow wall behind your character!
Level 2:
Dodge all of BadMech's attacks and defeat him when he is vulnerable.
A Little Story Of The Game
Square (The Player) was chilling at home playing video games and then he got mail. "The Head Bad has sent Bads to destroy the Yellow Wall, please help!" Square has been chosen to defend the Yellow Wall. So Square grabs his Mini-Gun and goes to the Yellow Wall ASAP. His friend Circle decides to tag along too. Luckily, Square was quick enough and the Bads hadn't reached the Yellow Wall yet.
Characters:
Square: The protagonist of the game. Square is a square who has a mini-gun. Square is controlled by the player.
Circle: Circle is Square's friend who does nothing but sits around.
The Head Bad: The Head Bad is the leader of the Bads, and created a mech called the BadMech.
Bad: A Bad is an enemy that tries to reach the Yellow Wall to destroy it.
BadMech: BadMech is a mech that The Head Bad built to destroy the Yellow Wall. The Head Bad drives BadMech in Level 2.
It took me about a week to make this game. I'm proud of the result.